NVIDIA GeForce RTX 2080

with Core i7-6950X at ultra quality Benchmarks

compare to:

change cpu to: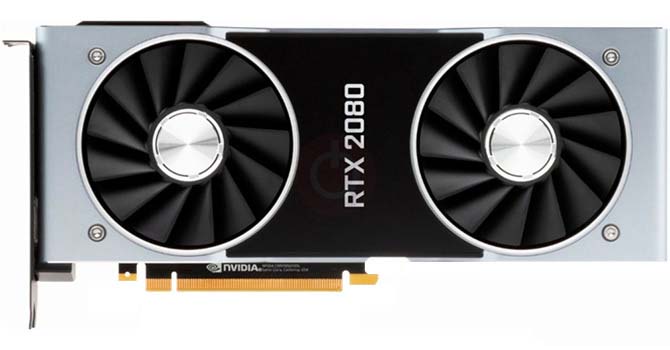 Title

NVIDIA GeForce RTX 2080
Price

$699
Release Year

2018
Series

RTX 2080
Maximum Temperature

78 C
Max Noise Level

48.5 dB
Minimum Power Supply

565W
Benchmark CPU

Intel Core i7-6950X @ 3.00GHz ($1575.99)
CPU Impact on FPS

-14.1 FPS
CPU Impact on FPS %

-10%
Benchmark Quality Settings

Ultra Quality Settings
Average 1080p Performance

127.2 FPS
Average 1440p Performance

97.5 FPS
Average 4K Performance

56.4 FPS
Memory

8 GB
Overall (GPU + CPU + Settings) Score

63/100
It is worth noting that the RTX 2080 is a very power hungry card and requires a decent power supply unit. In terms of memory, the RTX 2080's 8192 MB RAM is more than enough for modern games and should not cause any bottlenecks. Deciding whether to invest so much money in a high-end GPU like RTX 2080 requires careful thought. In short the performance is exceptional, there's no question that this is one of the most powerful single GPU out there in 2018. 4K gaming is joyous on this RTX 2080, and with a little tweaking to your AA settings, it'd be hard to imagine a title not capable of 60 fps on average.
Game Performance (FPS) at ultra quality settings
1920x1080
2560x1440
3840x2160
RTX 2080 Specifications
Board Design
| | |
| --- | --- |
| Board Number | PG180 SKU 0 |
| Length | 10.5 inches 267 mm |
| Outputs | 1x HDMI3x DisplayPort1x USB Type-C |
| Power Connectors | 1x 6-pin + 1x 8-pin |
| Slot Width | Dual-slot |
| TDP | 215 W |
Clock Speeds
| | |
| --- | --- |
| Boost Clock | 1710 MHz |
| GPU Clock | 1515 MHz |
| Memory Clock | 1750 MHz 14000 MHz effective |
Graphics Card
| | |
| --- | --- |
| Bus Interface | PCIe 3.0 x16 |
| Generation | GeForce 2000 |
| Launch Price | 699 USD |
| Production | Active |
| Release Date | Sep 20th, 2018 |
Graphics Features
| | |
| --- | --- |
| CUDA | 7.5 |
| DirectX | 12.0 (12_1) |
| OpenCL | 1.2 |
| OpenGL | 4.6 |
| Shader Model | 6.1 |
| Vulkan | 1.1.82 |
Graphics Processor
| | |
| --- | --- |
| Architecture | Turing |
| Die Size | 545 mm² |
| GPU Name | TU104 |
| GPU Variant | TU104-400-A1 |
| Process Size | 12 nm |
| Transistors | 13,600 million |
Memory
| | |
| --- | --- |
| Bandwidth | 448.0 GB/s |
| Memory Bus | 256 bit |
| Memory Size | 8192 MB |
| Memory Type | GDDR6 |
Render Config
| | |
| --- | --- |
| ROPs | 64 |
| RT Cores | 46 |
| SM Count | 46 |
| Shading Units | 2944 |
| TMUs | 184 |
| Tensor Cores | 368 |
Theoretical Performance
| | |
| --- | --- |
| FP16 (half) performance | 20,137 GFLOPS (2:1) |
| FP32 (float) performance | 10,068 GFLOPS |
| FP64 (double) performance | 314.6 GFLOPS (1:32) |
| Pixel Rate | 109.4 GPixel/s |
| Texture Rate | 314.6 GTexel/s |